Mosquito Guard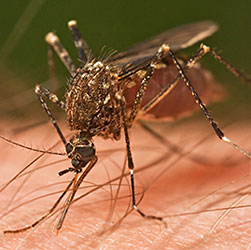 Shield your loved ones from disease carrying mosquitoes with Turf Ohio's Mosquito Guard Program. There is nothing more annoying than being harassed by mosquitoes while you enjoy spending your free time outside making the best out of your lawn and landscape. Mosquitoes can truly ruin a late night summer party, and they also have their mischievous ways of breaking into your home to disturb you even further. Turf Ohio is here to rid you of that annoying problem for good! Your property will be protected from these pests and the harmful diseases they carry such as Zika and West Nile. We are trained mosquito experts dedicated to greatly reducing mosquitoes so you can enjoy your outdoor space all year long.
We spray an effective barrier that protects your property for up to 30 days. We use a backpack sprayer for precise applications, targeted to shrubs and plants, which kill mosquitoes on contact. The treatment will also bond to foliage to control mosquitoes for weeks to come without harming your plants. Once the product has dried (approximately 30 minutes), you and your pets are free to enjoy your lawn again. While on your property we will help identify potential breeding grounds and recommend ways to eliminate standing water – the main conditions for mosquitoes to thrive.
What Mosquito Guard Services Can We Provide You With?
Turf Ohio offers 2 convenient treatment options to keep mosquitoes at bay from your property and house:
Full Season Program
This program ensures that your property is safe from mosquitoes all year long. The program includes 5 treatments and it starts the beginning of May and ends in October. With the help of this program you will enjoy your outdoor environment without ever feeling attacked or annoyed by mosquitoes.
Full Season All Natural Program
As an alternative to our synthetic treatments, we offer a very effective all natural solution that reduces the mosquito population for up to 21 days. Our treatment's contain a mixture of essentials oils for mosquito repellent that are safe and effective. Some of the ingredients included are Lemongrass Oil, Geraniol, Caster Oil and Cedar Oil. Our natural treatment's added benefit is that it will further protect you, your family and pets in a natural, safe and healthy manner.
We Offer 100% Satisfaction Guarantee for All Our Mosquito Guard Programs
Although no mosquito control service can guarantee 100% protection or the elimination of every mosquito, we stand behind our products and service. Nothing is more important to us than your complete satisfaction… so let us prove to you how hard we work to exceed your expectations. Give us a call today!